Using Windows?
Then you
need
XdN Tweaker!
The one and only!
Supports Windows 7, Windows Vista, Windows XP, Windows Server 2008/2008 R2, and Windows Server 2003/2003 R2!
(Sorry, no support for Windows 8/8.1, Windows 10, or Windows Server 2012/2012 R2, or 2016.)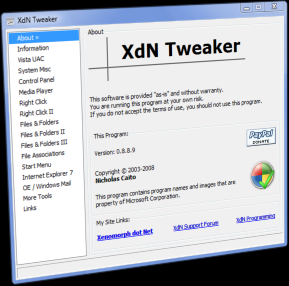 Download Now!
(Freeware)
Editor's Pick on Brothersoft!

Featured Download on Lifehacker!

4 out of 5 on Softpedia!

5 out of 5 Stars on Download.hr!

Designed and written by Nicholas Caito
Click here to learn more.